Affordable Connectivity Program
(ACP)
The Affordable Connectivity Act is a Federal Communications Commission (FCC) program with the purpose to help low income households afford broadband service.
Low-income consumers who need help paying for voice, broadband or wireless service, may be eligible to participate in the Lifeline program.
Lifeline is a non-transferable, federal benefit that makes monthly voice or broadband service more affordable. Eligible households may apply the monthly Lifeline discount to either landline voice or landline broadband service.
You may be eligible to receive Lifeline if you, or a dependent, receive any of the following:
Unresolved complaints concerning Lifeline service can be directed to the Georgia Public Service Commission's Consumer Affairs Unit at (404) 656-4501 or, Toll-free in Georgia, at (800) 282-5813.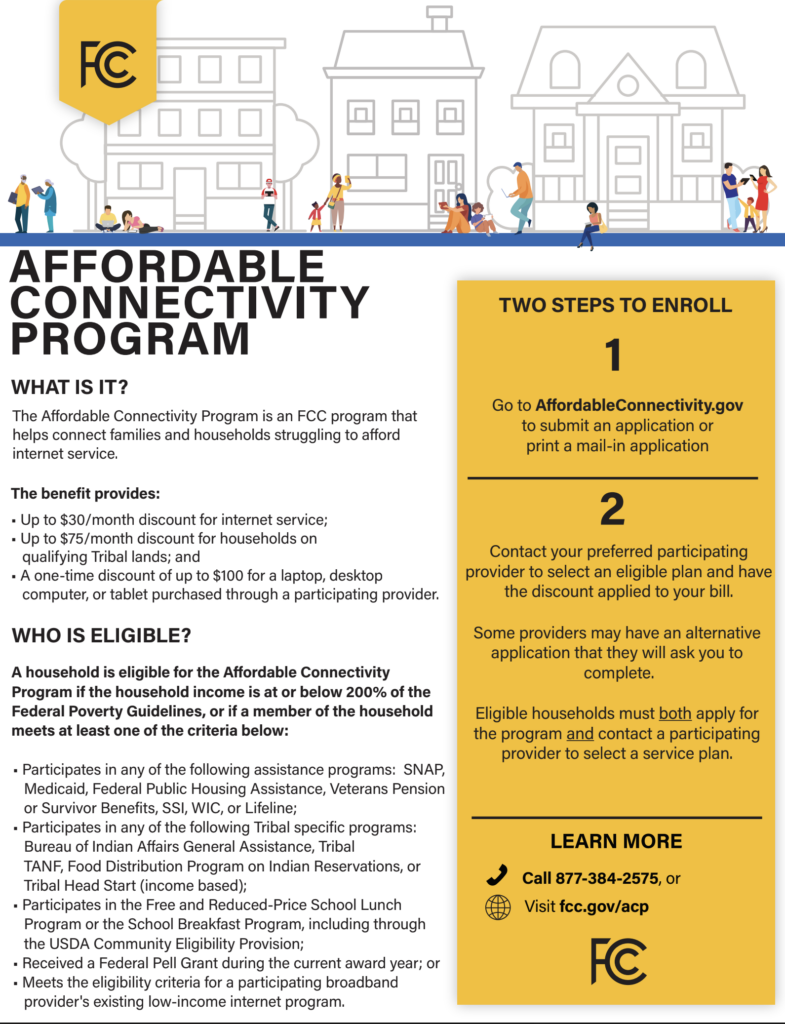 The Affordable Connectivity Program (ACP)
The Affordable Connectivity Program (ACP) is a U.S. government program that helps many low income households pay for broadband service.
You are likely eligible if your household's income is below 200% of the Federal Poverty Line or you (or someone in your household) participate in one of these programs:
Supplemental Nutrition Assistance Program (SNAP)
Medicaid
Special Supplemental Nutrition Program for Women, Infants, and Children (WIC)
Supplemental Security Income (SSI)
Federal Public Housing Assistance (FPHA)
Free and Reduced-Price School Lunch Program or School Breakfast Program, including at U.S. Department of Agriculture (USDA) Community Eligibility Provision schools
Received a Federal Pell Grant in the current award year

You can check eligibility requirements and apply for the ACP by visiting ACPBenefit.org. If you have questions about the ACP or wish to check your application status you can contact the ACP Support Center at (877) 384-2575.
Complaints concerning ACP service can be directed to the FCC Consumer Complaint center at https://consumercomplaints.fcc.gov/ or 1-888-225-5322.
EBB Program Enrollments Closed
National Lifeline Accountability Database enrollments into the Emergency Broadband Benefit Program ended on December 30, 2021 and the EBB Program has officially transitioned to the Affordable Connectivity Program. All pre-existing EBB applications, except those that do not qualify through an ACP eligibility program (i.e., substantial loss of income), have rolled over and are eligible for ACP enrollment.
You can verify eligibility and submit an application at  ACPBenefit.org. You can also call the ACP Support Center with any questions at (877) 384-2575.
**DISCLAIMER** Internet speed and WIFI services will adhere to all Affordable Connectivity Program protocols and regulations.